OFFICIAL: Arsenal sign Henrikh Mkhitaryan from Man United.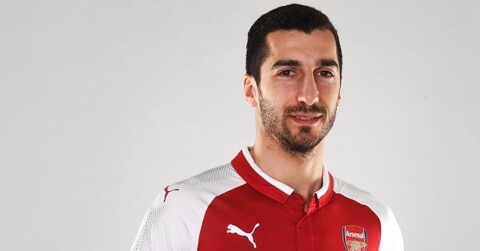 Mkhitaryan, 29, moves in the opposite direction to Sanchez after scoring 13 goals in 63 appearances for United.
The Armenia international moved to Old Trafford from Borussia Dortmund for £26.3m in July 2016.
He has made only 10 Premier League starts this season and it is understood there was a breakdown in trust with Mourinho, who has made Sanchez his first signing of the January transfer window.
On his move, Henrikh said: "I'm very happy that we could finish this deal and I'm very happy to be here. It's a dream come true because I've always dreamed of playing for Arsenal. Now that I'm here, I'll do my best for this club to create history."
Arsene Wenger added: "Henrikh is a very complete player. He creates chances, he defends well, he can absorb distances and he's very committed as well. I must say he's a player who has all the attributes."
PLAYER PROFILE
Henrikh Mkhitaryan is an Armenian professional footballer who plays as a midfielder. He has played in Pyunik, Metalurh Donetsk, Shakhtar Donetsk, Borussia Dortmund and Man United before joining Arsenal officially.
Henrikh made 39 appearances while at Manchester United, scoring five times and was part of their UEFA Europa League winning squad last season. He is the captain of the Armenian national team and is their all-time top scorer. He has also received the Armenian Footballer of the Year award eight times.
The 29-year-old midfielder started his career with Armenian side FC Pyunik, where he won the Armenian Premier League on four occasions. He then moved to Ukraine where he played for Metalurh Donetsk, before joining Shakhtar Donetsk, where he made 72 appearances, winning the Ukrainian Premier League three times. In 2013, Henrikh transferred to Borussia Dortmund in the Bundesliga, where he made 90 appearances, during which time he was part of the 2014 German Cup winning squad.