Heading to their 6th World Cup the Super Eagles will be fielding one of their strongest teams yet. Under the Guidance of German coach Gernot Rohr the team is back to their winning ways. The front line contains four Premier League players in the form of Victor Moses (Chelsea), Kelechi Iheanacho (Leicester), Odion Ighalo (Watford) and Alex Iwobi (Arsenal). The team will be led by key player John Obi Mikel a former Chelsea player who captained the team at the 2016 Summer Olympics.
although there pre world cup frendlies is far from convicing, the only atonising thing about the current squad is there world cup kit, which is voted as the best kit in russia 2018 world cup by fans around the world, and the opportuniuty given us by
Travelstart Nigeria
to watch the world cup by offering
Cheap Flights
to fans accross the nation
Road to Russia
The Super Eagles were the first team to qualify from their group for the 2018 World Cup. The qualification rounds saw Nigeria facing off with neighbours Zambia, Cameroon and Algeria, this was nicknamed Africa's "Group of Death". Nigeria was off to a great start when they beat Zambia 2-1, Algeria 3-1 and thrashed Cameroon 4-0. They then went on to draw with Cameroon 1-1 and beat Zambia 1-0 this was when they qualified with a match in hand and went on to draw 1-1 against Algeria.
">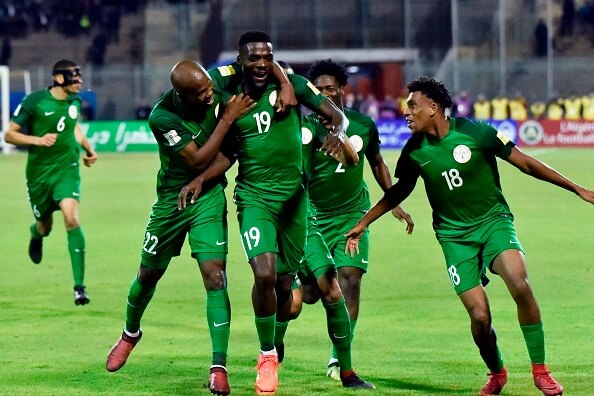 Nigeria's John Ogu (C) celebrates with teammates after scoring a goal during the 2018 FIFA World Cup Group B qualifying football match between Algeria and Nigeria at the Chahid Hamlaou Stadium in Constantine on November 10, 2017. / AFP PHOTO / RYAD KRAMDI (Photo credit should read RYAD KRAMDI/AFP/Getty Images)
Nigeria goal scorers during qualification:
Alex Iwobi (2 goals), Kelechi Iheanacho (2 goals), Victor Moses (2 goals), John Obi Mikel (2 goals), Odion Ighalo, Moses Simon and John Ogu.
">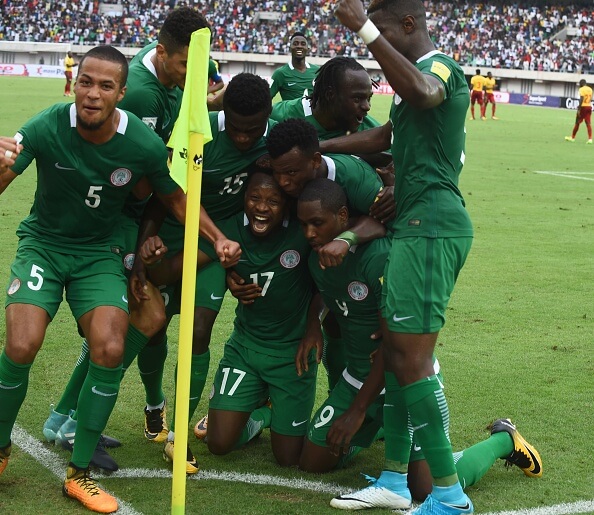 Nigeria's
players celebrate after scoring a goal during the 2018 FIFA World Cup qualifying football match between Nigeria and Cameroon at Godswill Akpabio International Stadium in Uyo, southern Nigeria, on September 1, 2017. / AFP PHOTO / PIUS UTOMI EKPEI (Photo credit should read PIUS UTOMI EKPEI/AFP/Getty Images
)
1994 – USA World Cup
In 1994 the Super Eagles qualified for their first World Cup tournament under the guidance of their Dutch coach Clemens Westerhof.
It seemed luck was not on their side as they were drawn in a tough group alongside Argentina, Bulgaria and Greece. Nobody had faith that the African team would progress from the group stages on their debut. But, Nigeria proved everyone wrong when they kicked off their tournament.
">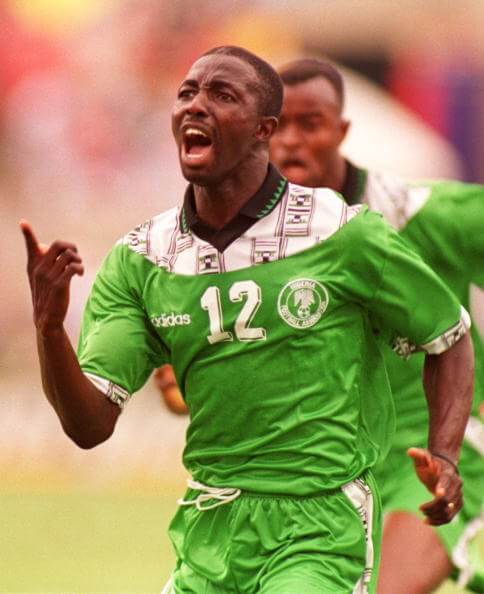 25 JUN 1994: SAMSON
SIASIA OF NIGERIA CELEBRATES AFTER SCORING TO PUT HIS TEAM UP 1-0 AGAINST ARGENTINA DURING THE 1994 WORLD CUP MATCH AT FOXBORO STADIUM IN FOXBORO, MASSACHUSETTS. THE LEAD WOULD NOT HOLD, AS ARGENTINA WON THE GAME, 2-1. Mandatory Cre
First up the Super Eagles wiped the floor with Bulgaria thanks to a convincing 3-0 win. Argentina bought them team back down to earth when they won 2-1. All Nigeria needed to progress to the next round was a draw and they did more than that when they beat Greece 2-0.
The Super Eagles made it to the round of 16 where they lost out to Italy. They put up a valiant effort with the game ending in a draw but extra time saw Italy's Baggio score the winning goal.
">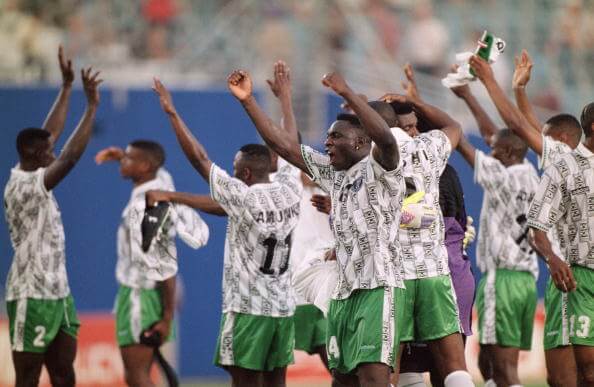 The Nigerian soccer team celebrating their 3-0 win over Bulgaria in a FIFA World Cup first round match at the Cotton Bowl, Dallas, 21st June 1994. Nigeria had qualified for the World Cup finals for the first time. (Photo by David Cannon/Getty Images)
1998 – France World Cup
Five teams from Africa qualified for 98 World Cup in France: Nigeria, Tunisia, Cameroon, Morocco and South Africa. This time the Super Eagles were coached by Bora Milutinovic from Serbia. Nigeria was drawn in group D where they had to face off against old rivals Bulgaria, Spain and Paraguay.
">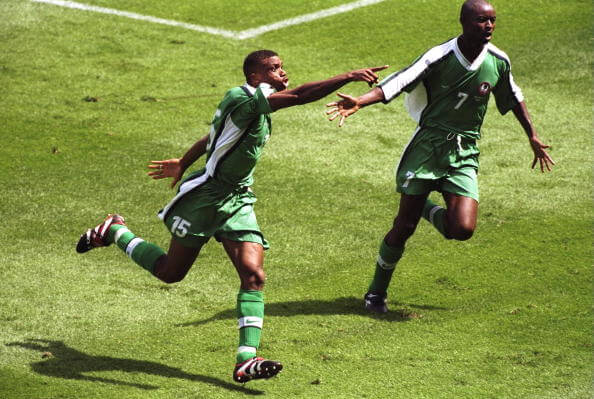 13 Jun
1998: Sunday Oliseh of Nigeria celebrates with team mate Finidi George after scoring the winning goal in the World Cup group D game against Spain at the Stade de la Beaujoire in Nantes, France. Nigeria won 3-2. Mandatory Credit: Shaun Botterill/Allsport
The group stages started off well for Nigeria with a 3-2 win over Spain and another win for their next game when they beat Bulgaria 1-0. The Super Eagles had already qualified for the round of 16 by the time they had their first defeat against Paraguay 3-1.
">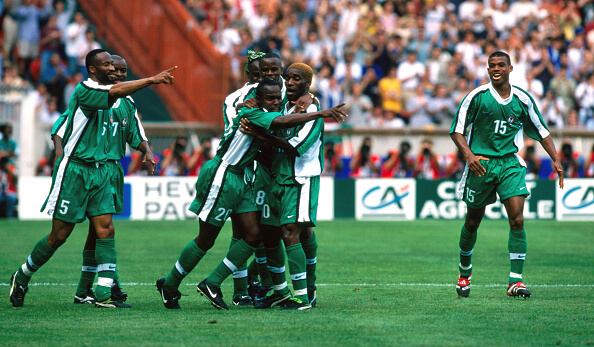 19 June
1998 FIFA World Cup, Nigeria v Bulgaria, Nigeria celebrate the winning goal by Victor Ikpeba (20). (Photo by Mark Leech/Getty Images)
Just like the World Cup before Nigeria could not get past the round of 16 where they lost 4-1 to Denmark.
2002 – Korea and Japan World Cup
Nigeria qualified for their third World Cup under the leadership of a local coach Festus Onigbinde and they were captained by the legendary Jay-Jay Okocha.
">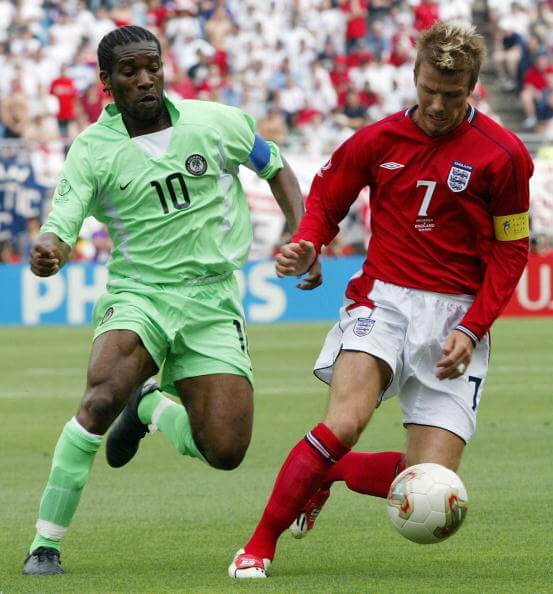 OSAKA, JAPAN: England's midfielder David Beckham (7) keeps the ball away from Nigeria's midfielder Jay Jay Okocha during match 38 group F of the 2002 FIFA World Cup Korea Japan 12 June, 2002 in Osaka, Japan. AFP PHOTO KAZUHIRO NOGI (Photo credit should read KAZUHIRO NOGI/AFP/Getty Images)
Again they had a tough group where they faced first time rivals Argentina plus Sweden and England. The tournament was not off to a good start for the Super Eagles as they lost 1-0 to Argentina and 2-1 to Sweden, they managed a goalless draw against England but, it was not enough to progress from the group stages and Nigeria was sent home.
">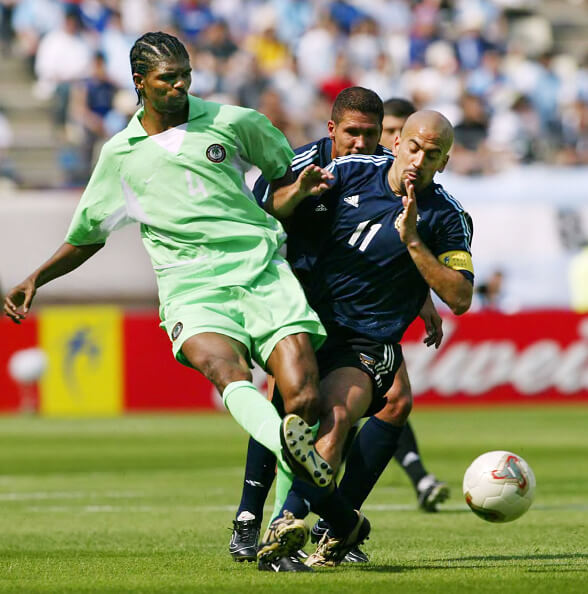 Nwankwo
Kanu of Nigeria
2010 – South Africa World Cup
A World Cup hosted on the African continent had everyone hoping this would be the time for an African team to show the world what they are made of. Teams from Africa included Nigeria, Ghana, Algeria, Cameroon, Ivory Coast and the host team South Africa.
">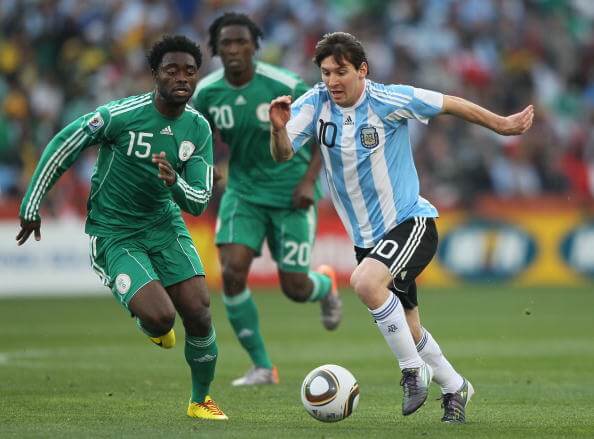 JOHANNESBURG, SOUTH AFRICA – JUNE 12: Sani Kaita of Nigeria chases Lionel Messi of Argentina during the 2010 FIFA World Cup South Africa Group B match between Argentina and Nigeria at Ellis Park Stadium on June 12, 2010 in Johannesburg, South Africa. (Photo by Christof Koepsel/Getty Images)
But again Nigeria was drawn in a group alongside Argentina, South Korea and Greece. Like their previous tournament, Nigeria didn't have a great start they lost 1-0 against Argentina and 2-1 against Greece. Again they managed a draw in their last game against Korea with the final score being 2-2 but, it wasn't enough to progress. The game against Korea was most memorable for Yakubu's miss, one of the easiest shots to slot into the goals but he missed the target.
Ghana did, however, progress all the way through to the quarter-finals where they missed out to Uruguay on a penalty shootout. The Ghana VS Uruguay game was one of the most memorable of the 2010 World Cup.
">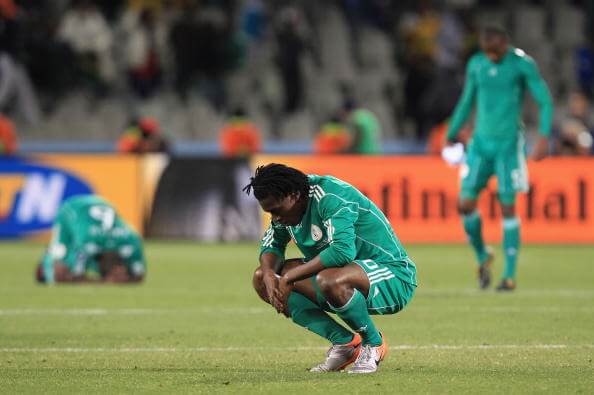 BLOEMFONTEIN, SOUTH AFRICA – JUNE 17: Dickson Etuhu of Nigeria looks dejected at the final whistle after losing to Greece during the 2010 FIFA World Cup South Africa Group B match between Greece and Nigeria at the Free State Stadium on June 17, 2010 in Mangaung/Bloemfontein, South Africa. (Photo by Martin Rose/Getty Images)
2014 – Brazil World Cup
Qualifying for their 5th World Cup tournament the Super Eagles were hoping to change back to their winning ways. But, again for the third time, they were drawn in the same group as Argentina. Luckily the rest of Group F included Iran and Bosnia and Herzegovina.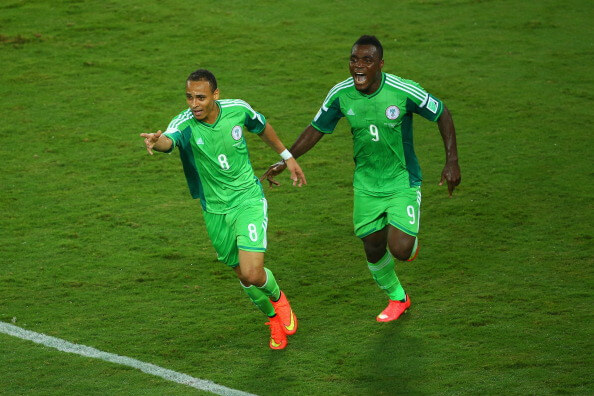 CUIABA, BRAZIL – JUNE 21: Peter Odemwingie of Nigeria (L) celebrates scoring his team's first goal with teammate Emmanuel Emenike during the 2014 FIFA World Cup Group F match between Nigeria and Bosnia-Herzegovina at Arena Pantanal on June 21, 2014 in Cuiaba, Brazil. (Photo by Clive Brunskill/Getty Images)
The Super Eagles faced off against Iran first and were disappointed to end the game in a goalless draw. But when they faced first timers Bosnia and Herzegovina they managed a 1-0 win. Next up was Argentina where Nigeria suffered a 3-2 defeat.
Nigeria did manage to leave the group stages and in the round of 16 they faced off against France. Unfortunately, Paul Pogba put an end to Nigeria's dreams of progressing further when he found the back of the nets and Yobo managed to scored a late own goal.
">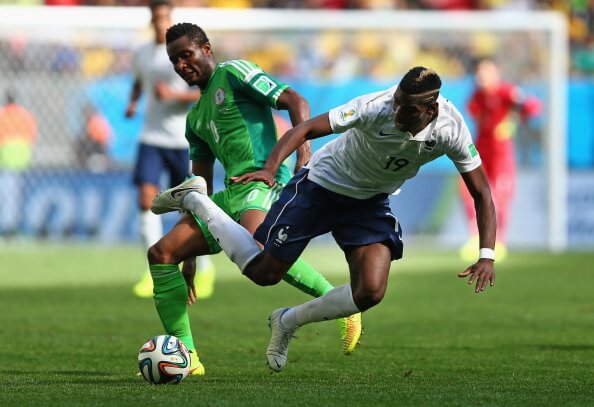 BRASILIA, BRAZIL – JUNE 30: John Obi Mikel of Nigeria challenges Paul Pogba of France during the 2014 FIFA World Cup Brazil Round of 16 match between France and Nigeria at Estadio Nacional on June 30, 2014 in Brasilia, Brazil. (Photo by Jeff Gross/Getty Images)
2018 – Russia World Cup
Nigeria is one of Africa's strongest teams going into the World Cup and they will be looking to better their results by winning the round of 16 matches. But, yet again Nigeria has been drawn in the same group stages as Argentina. The rest of Group D is Iceland and Croatia so it is expected for the Super Eagles to advance.
">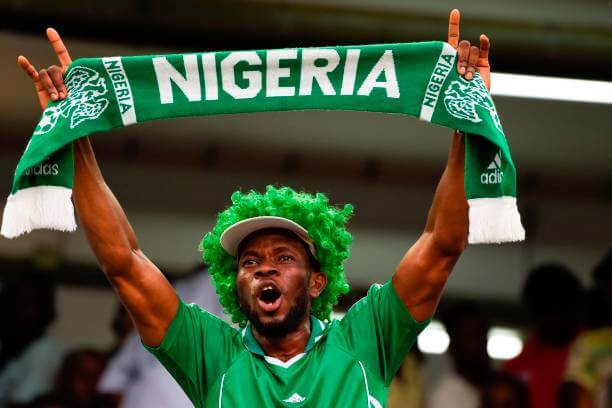 A
Nigerian fan waves a scarf as he celebrates after the FIFA World Cup 2018 qualifying football match between Nigeria and Zambia in Uyo, Akwa Ibom State, on October 7, 2017. / AFP PHOTO / PIUS UTOMI EKPEI (Photo credit should read PIUS UTOMI EKPEI/AFP/Getty Images)
2018 Nigeria fixtures:
Saturday, June 16
Croatia Vs Nigeria
Friday, June 22
Nigeria VS Iceland
Tuesday, June 26
Nigeria VS Argentina
Based on predictions Nigeria is expected to finish 2nd in group D meaning they could potentially play against France in the round of 16 as France is expected to finish top of their grpup
Travelstart Nigeria is ready to support the Super Eagles by providing Cheap Flights for the World Cup 2018.Book a flight with them now

Travelstart Nigeria

- book a

Cheap Flig

hts to russia and support our darling country

now